How to Use Old Navy coupons?
Old Navy offers several coupons and promotional codes that help you save up to 70% on a single purchase. Old Navy coupon codes are offered for both online and in-store purchases. They can be found on the web platform. Don't forget to check designated coupon website for more codes. To use Old Navy coupons follow the following steps:
1. Log on to the online store and shop for your favorite apparel.
2. Click on "add to bag" when you have found a product of your choice.
3. Repeat the second process if you are making multiple purchases.
4. When you have selected all the items of your choice click on "check out" to see the payment page.
5. On this page, enter the coupon/promotional code in the space provided as shown below then click on apply.
6. The page would display the amount you have saved on that particular purchase.
7. Finally, click on check out again to pay the discounted rate.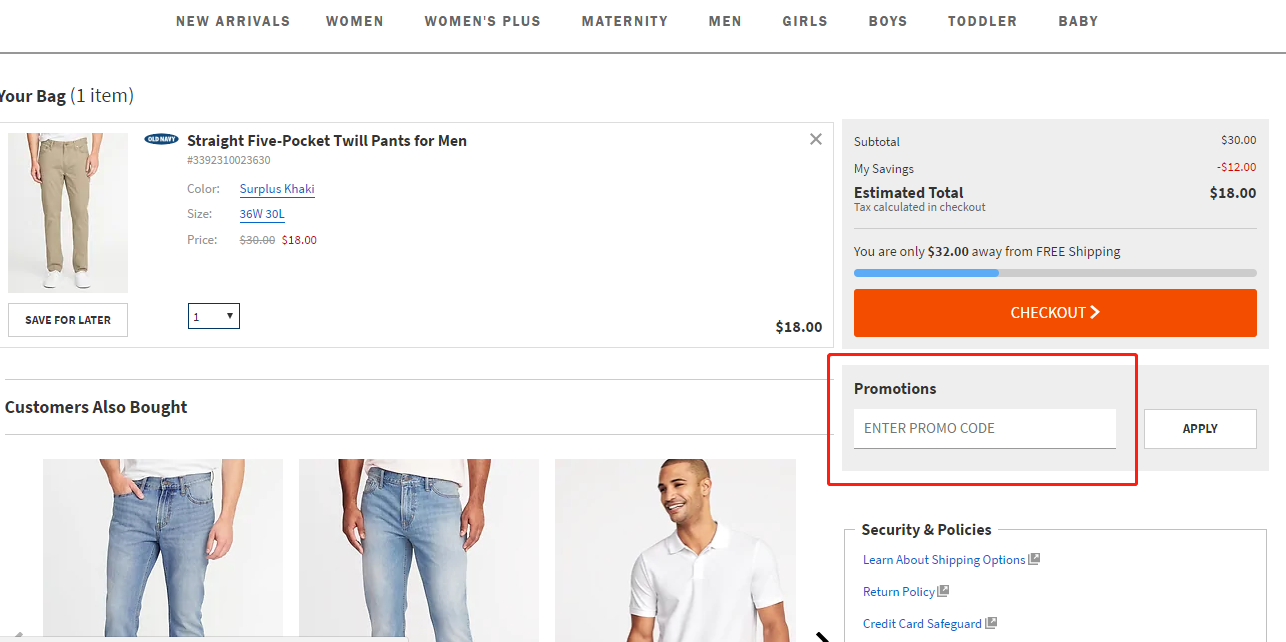 How to Save on Old Navy?
Old Navy offers a lot of money saving advantages to its regular customers some of which are explained below.
Super cash
Super cash offers customers savings on purchases for specific periods in a year known as "super cash periods". This promotional codes, offered in form of gift cards, is allocated to customers based on their purchase value. The promotion codes apply to purchasers of apparel worth $25 and above.
Where the purchase is in-store, you would be handed a coupon by the cashier based on your purchase price. For online users, the coupon would be sent to your email address within 24 hours of making a purchase.
Finally, you can use old navy in store coupon and old navy online coupon regardless of how it was originally obtained.
Stay in touch with text alert and Facebook
You can get regular updates about special deals, discount sales, new stock by liking the store Facebook page. You could also get the same information by registering for text alert. Text "6049" to 653-689 to subscribe to this service.
Don't throw away your receipts
When you make purchases in-store, ensure to keep the receipts of the purchase. The purchase receipt usually contains a survey at the bottom end. Filling as much survey forms as possible would earn you coupons.
Brace yourself for one-day deals
One day deals are price slashes that are only available for a day. An example is the yearly flip-flip deal that begins every summer. With this deal, you can purchase flip-flops at only $1 dollar per pair saving more than 50% in cost.
Register your mail for discount
By registering your e-mail address on the online platform you immediately get a 20% discount off the next purchase.
Watch out for Sunday markdowns
You can take advantage of the weekly markdown which occurs every Friday. Though this slash in price can sometimes extend to the following Monday. You can sometimes save up to 40% during these regular reviews. These prices, combined with other offers, give you the best advantage possible.
Ask for price adjustments
When you purchase clothing at Old Navy, you should ensure to get the best price possible. If after purchase, you discover that the same product is offered at a lesser price, you can ask for price adjustments. This offer last for 14 days after you make a purchase and you can only get an adjustment once.
Purchase discount gift cards
Websites like Cardpool and Raise offer Old Navy gift cards at discounted rates. These cards can be used to purchases items at great prices on the Old Navy website.
Buy online for more coupons
While there are Old Navy promo codes available for purchases made at the store, you would save more money by shopping online. This is because online coupons are easier to find and are instantly redeemable.
Use multiple coupon codes for a single transaction
While one coupon might do the trick, you can use up to three different codes when you buy on oldnavy.com. Also, you would save more by setting a 40% discount minimum on each purchase. If you look well enough, you would find enough coupons online that gets you to that number on a regular basis.
Free shipping when you purchase in-store
Old Navy offers free shipping to customers that purchase apparels worth $25 or more. This is considerably lesser than online purchase with a $50 minimum for free shipping.
Old Navy Review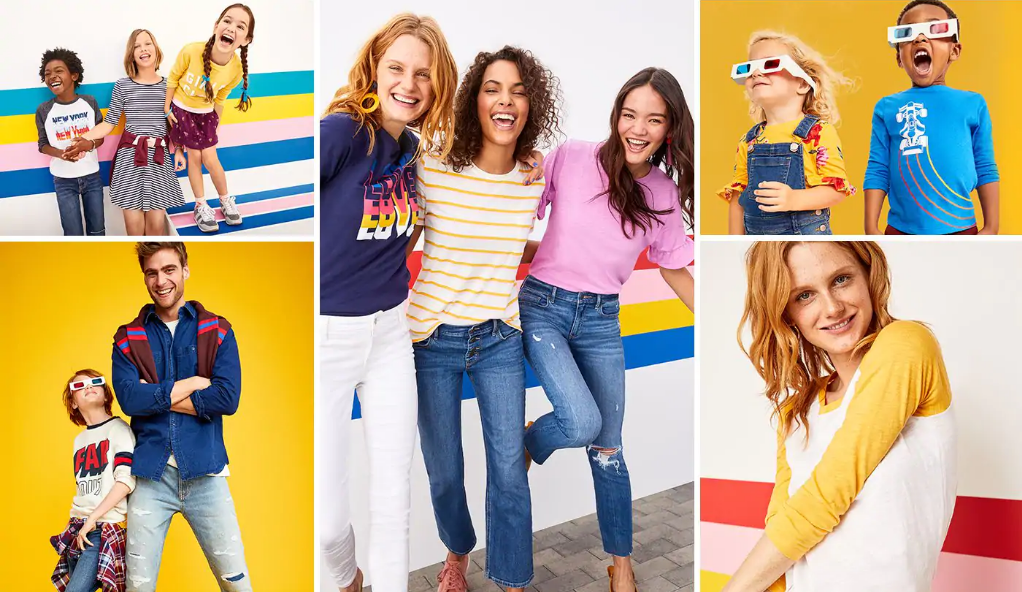 Affordable, trendy and reliable. These words aptly describe the competitive advantage of Old Navy as a retail fashion chain.  Owned by GAP Inc. the store has distinguished itself as a place where strength can be found in diversity. The fashion chain became the first to make $1 billion dollars in revenue in its first four years in business.
From t-shirt to active tops and bottoms, men can choose from a wide range of clothing choices. You can also find accessories like shoes (including flip-flop for men), sunglasses and a host of other exciting durable products.
Regardless of your body frame and preferences, old navy has something for the 21st-century female.  Step into social circles with style with the "In trend" fashion collection or banana republic dresses for the young and wild. Navy stores also give the older woman a variety of options to pick from.
For kids of different age and body makeup, the store offers a wide collection of wears that are easy on the eyes. Browse through the website to find bargains on jeans, shirts, sneakers and more. These designs are carefully crafted to suit different kids by the ingenious Old Navy design team.
To shop without drilling a hole in your pocket you can apply for the old navy credit card. The card guarantees purchase at any of the old navy stores (restriction apply).  You also earn points for every item you purchase using the old navy visa card.
 To apply, do the following:
1. Log into the old navy website and fill out the "retail credit card application";
2. Choose your preference between paper and electronic bank statement;
3. Go through the terms and conditions on the website;
4. Click on submit to complete the application to earn reward points for every dollar spent.