How to Use GAP Coupon Codes?
GAP's website is really easy to use with simple guides and instructions on the website. It is easy to order their apparel and accessories and to apply a coupon code from them to your order for a discount. Check out how to do it in the instructions below:
1. Browse the site to find the jeans, tops or whatever else you want to buy.
2. Click on the product and you will be directed to its specific page.
3. Choose the color, size, and quantity you want, and then click 'ADD TO BAG.' A popup page will appear asking you to choose between 'KEEP SHOPPING' and 'CHECKOUT.'
4. Click 'CHECKOUT' and you will be directed to the checkout page.
5. It is on this checkout page that you will see a field marked 'ENTER PROMO CODE'. Key in your code and then click 'APPLY' and the order total will be automatically reduced.
6. Complete your order by clicking 'CHECKOUT' and filling in your email address, physical address, and your financial details.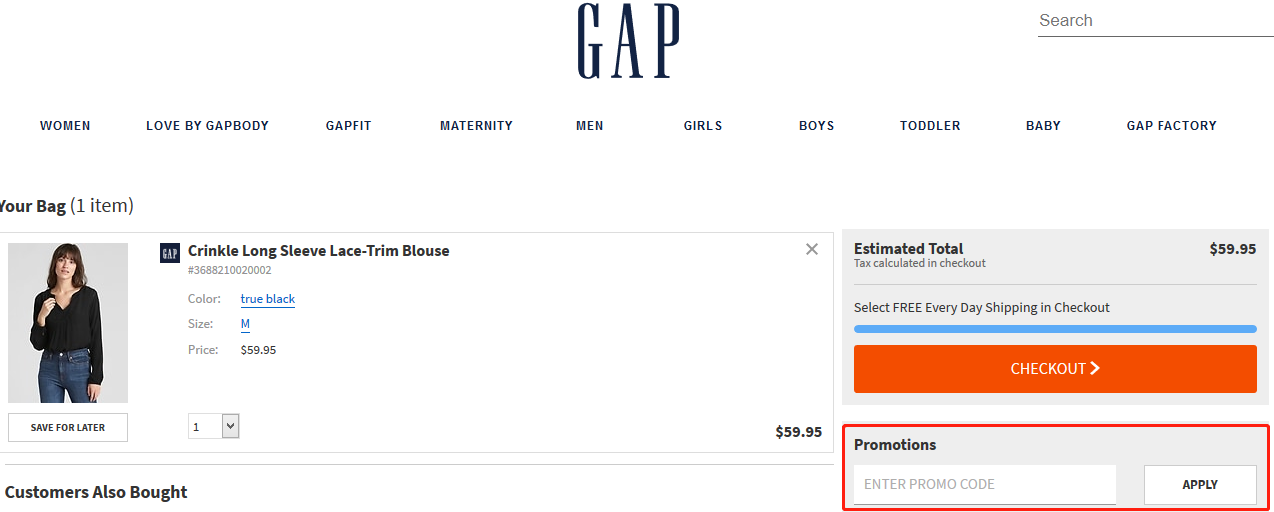 How to Save at GAP?
You can shop with peace of mind on the GAP website because there are several things you can do to make sure you pay less.
The first thing you should do to make sure you stay within your budget is to register for the company's reward program known as GAPCASH. The program rewards you with redeemable cash for all qualifying purchases. For example, every purchase of at least $50 will get you rewarded with $20 in GapCash. The more products you buy, the more GapCash you get; you can get up to $120 per order. The cash can be used to buy products on the site at no extra cost.
Signing up to be a member of GAPCASH doesn't cost a thing. You simply need to have an email address to sign up for your account on the company's official website.
The second thing you can do to make sure you stay within your budget is to visit the 'GAP SALE' pages. There is a 'GAP SALE' page under every product category on the website. The pages have many stylish and superior quality products on sale. You will love the cheap prices on these pages. And you can definitely save a lot of money by browsing these pages first before going back to the main product pages.
GAP Review
GAP is a worldwide brand with American roots. It was established in 1969 by Donald Fisher and has grown to become one of the leading retailers of quality apparel around the globe. It has hundreds of stores plus a robust online platform on which it sells its merchandise in addition to clothes and accessories from its subsidiaries and affiliates. The company makes more than a billion dollars in operating income.
GAP has a variety of gorgeous products and exciting promotions that will make many customers excited about shopping with them. They offer free shipping and have an enticing loyalty program that will give you up to $120 in store credit per purchase for future use.
This company is definitely worth checking out for those who are looking to get more when shopping.